Hello Visitor,
Christmas Carol Service: Wednesday 9th December
The owners of Grendon Hall have kindly agreed to accommodate the school's Carol Service in their grounds. This is an incredibly generous gesture and will allow our whole school to join together for the first time in 8 months!
The Carol Service takes place on Wednesday 9th December and this will also be the same day as our Chrismas Theme Day in school - children can wear mufti and their favourite Christmas jumper and they will spend the day engaged in a range Christmas arts and crafts. Towards the end of the day, the school will walk to Grendon Hall to get ready for the carol service. The class bubbles will be maintained throughout. Mrs Austin has been working with the children over the last few weeks - you may have heard the children's singing if you have passed by the school on any recent Wednesday!
Instead of walking back up the hill to school at the end of the service, children should be collected from Grendon Hall. To ease congestion, there will be a staggered pick up and we will share details of this nearer to the time.
Unfortunately, parents will not be permitted to attend the Carol Service due to Covid-19 restrictions but we are exploring ways of recording and then sharing the service. With this in mind, we are just finalising the time of the service to ensure the light is ok but the provisional time is 3.30-4.30pm.
___________________________________________
The school is very pleased to welcome Grendon's new vicar, Reverend Morna Simpson. Morna will be involved in the Carol Service and is spending time over the next few weeks visiting each class to get to know the staff and children.
Nativity: Tuesday 8th December at 4.00pm
It is the school's intention to push ahead with our plans for our Reception children to perform a carefully, socially-distanced Nativity. In keeping with previous years, the Nativity will be performed outside in the EYFS area. As so few children are involved, it will be possible to invite parents of children in Reception, with seating arranged in such a way as to ensure social distanced can be observed. To make sure that we stay within the guidance, the school will only be able to allocate two seats per child.
Year 6 pupils will also be invited to support with the singing at the Nativity - Mrs Gookey will send a separate letter about this.
Rats
The school is aware of a rat problem in the school playground. In this rural area, it is not unusual to catch sight of rats and other wildlife but the problem has escalated quickly this time. Although Pest Control services are involved and measures have been in place for approximately 2 weeks, the issue persists and so our efforts have been scaled up. The Health and Safety Committee discussed the rodent probem at the start of the week and whilst there is obviously no instant fix, the school hopes to get on top of this very soon. Pest Control have visited the school site again today and have a further 2 visits pencilled in.
Covid-19: Public Health Letter
Schools have been asked to share this recent communication from Public Health Northamptonshire which you can read by clicking here.
Reception Intake 2021
Zoom information meetings have been set for Wednesday 2nd December from 1.30-2.30pm and Thursday 3rd December from 11am-12pm. These will provide an opportunity for attendees to ask questions about the school and the admissions process.
If you would like to attend either of the Zoom meetings, please contact the school to book your place.
#formrbailey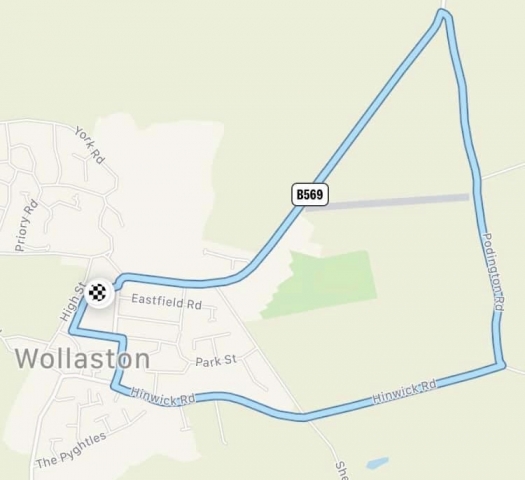 If you are on your daily walk in Wollaston and happen to be passing anytime between 4pm on Saturday and 4pm on Sunday, please look out for me and Mr French and give us a wave as we take on the challenge of running 5 marathons in 24 hours.
We are playing a small part in a huge day of fundraising for Chris Bailey, a local Head Teacher and all-round great guy, who is coming to terms with a recent diagnosis of pancreatic cancer.
You can read about our attempt in the Northants ET just here.
Look out for the #formrbailey hashtag on social media and get involved if you can! The main fundraising page is here.