Hello Visitor,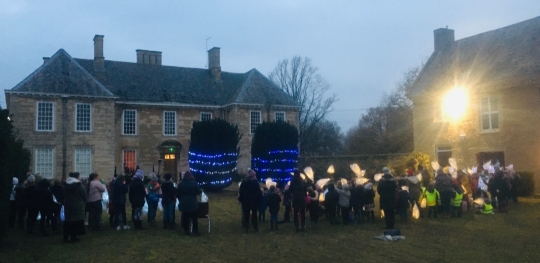 Last Day Of Term
You may have seen in the news that schools have been given the option of closing on Thursday 17th December for the Christmas break. This new guidance reflects the requirement for schools to be available to assist with track and trace communications for up to 6 days after the end of the school term finishes and, by closing on the 17th December, it means that schools are not then required to be 'on call' on Christmas Eve.
Up until very recently, the advice from the DfE had consistently been that school term dates would remain unchanged and their very late decision to announce this week that schools can shut next Friday only adds to the seasonal and Covid related stresses.
For this main reason, we are staying open on Friday 18th December. This means that the training day on Monday 4th January will remain and we will re-open for the Spring Term on Tuesday 5th January 2021.
Christmas Performances!
What a treat it was to be able to hold two important Christmas events this week. On Tuesday, our Reception children treated their parents and school staff to a brilliant Nativity. Supported by our Year 6s and Mrs Austin, the children retold the Nativity story so confidently in what was our first performance since before the March lockdown. Huge thanks to the EYFS team for putting on yet another great show.
Yesterday then marked our first whole school peformance of 2020. Our Carol Service was only made possible by the generosity of Grendon Hall's owners who were magnificent hosts and couldn't have made us feel more welcome! Safe within the beautiful grounds of Grendon Hall, we were able to maintain our 4 class bubbles whilst still having a strong sense of togetherness - it was a very special moment and certainly a school highlight of 2020 (admittedly from quite a short list). The children behaved impeccably and created a wonderful atmosphere with their singing and the lanterns they had made in school. Mrs Austin had taught the children British Sign Language to accompany the carols and Rev Morna Simpson participated in a truly memorable event. Many thanks to you all for the seamless and safe collection of children at the end of the service. Of course, Covid restrictions made it a logistical impossibility to invite parents to this event but to give a sense of what the service was like you may want to view the short video that was uploaded to the school's Facebook page last night. it already has over 1,500 views!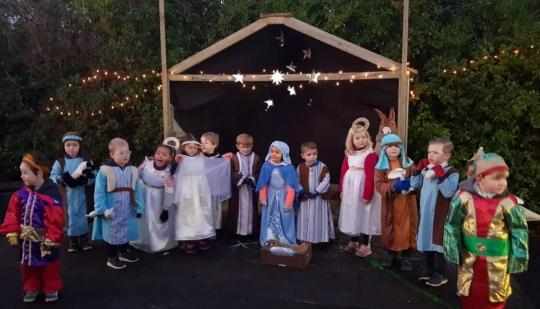 One Week To Go...
The weather has been kind to us this week which means that the Nativity and Carol Service back-up dates are no longer needed. This means that next week should be relatively calm!
On Thursday 17th December, your child's Pupil Profiles will be sent out along with a covering letter. The Pupil Profile will provide an important update on academic achievement and will also include comments and Pupil Mentoring outcomes.
Dawn, our wonderful cook, is already gearing up for the very popular Christmas Lunch on Friday 18th December and, as it is the last day of term, children should come in mufti.
Mrs Welters is planning to do some catch up lessons on the last day of term so her students should bring their instrument in.
Individual teachers may be in touch with you about class specific events/reminders for the last week.
FOGS
Many thanks for the huge number of prize contributions for FOGS Christmas Hamper Raffle and also for your Christmas Goodie Bag orders. Raffle tickets are still on sale and the draw will be made on the last day of term with winners announced before the end of school.